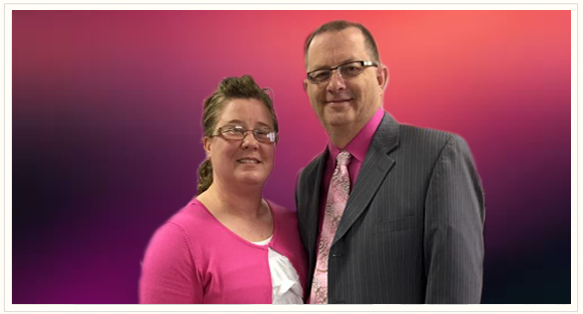 Senior Pastor Clifton Beecher and His lovely wife Jeana started Crosspoint Tabernacle as a small work in a store front building on Walker Street in 2008.  Today, it has grown into a beautiful work of God in our new building located at 76 Brown Road in Franklin, KY.
Bro & Sis Beecher are blessed to have all three of their children and their spouses working in the ministry with them.
They also consider themselves exceedingly blessed to have some awesome saints that are united in love for each other and for the cause of Christ.
As the Sr. Pastor of Crosspoint Tabernacle I want to invite you to come and experience an exciting time of worship with our church family.
We offer ministries for every member of your family from the precious little ones that include activities for them to participate in; up to the senior citizens where we get together and enjoy good food, fun and fellowship. Our church family love each other, and it shows!
Our goal is to connect you to Jesus Christ through connecting with our church family. We don't offer a lot of frills but what we do want you to experience is an anointing of God's presence when you enter into the sanctuary.
Here, we want you to hear the word of God and experience genuine worship of our Savior, Jesus Christ.
It is the Word of God and the Spirit of God that will transform your life, so we come together to bring His presence down to earth.
We started this church because I was tired of ordinary church. I wanted to go to a church where people were loved and enjoyed being together. I wanted a place where everyone who came could honestly say they felt God's presence when they left.
I believe this is the place for a life change; not because of me but because of the presence of a Holy God that changes and transforms lives.
So, what's next? We want to share our experience with you and your family because it is life changing and it is fun living for God.
So, Why don't you come on and give us a try; you won't be disappointed.
We are growing and we've experienced record attendance in the past year. We want you to be part of what God is doing in this hour, in our community.
The sooner you come the sooner you can find out what we're talking about.
This is home… at least until we make it to our final home in glory!
 Loving God, Making Friends and Changing Lives!!
Pastor Clifton Beecher
Justin & Chaley Hamm
Youth Pastors
Justin and Chaley Hamm have been in youth ministry for over 6 years. They have been the youth pastors at CrossPoint Tabernacle for 4 of those 6 years. The Hamm's have been married 5 years and have 2 children. Lillyan (5) and Elyse (2). As a family they devote their time into the AfterShock Youth Group and their church community. They have a passion to see young people serving God and growing in his Spirit. Together their goal is to lead the youth to a mature and solid relationship with the Lord. To help create steadfast adults by enabling them to pursue the ministry God would have for each of them by challenging them to seek after God in all things.
Austin & Brooke Elmore
Care Ministry Leaders
Sound/Media Coordinators
Austin and Brooke Elmore have been at Crosspoint for 6 years. They have been married for 3 years and are expecting their first child in September of 2019. Their passion is to serve God, the church, and the community. They have been serving in the Care Ministry for two years. They have a passion to provide care for and show the love of God to the saints of Crosspoint tabernacle and the community of Franklin. Austin also plays the bass for Crosspoint's Worship team, as well as coordinating the sound and media. His passion is in the jail ministry, spreading God's word and love with the inmates in Franklin. Brooke also teaches the toddler class. Her desire is to lay a foundation for the little ones so they can learn and grow in their walk with God.